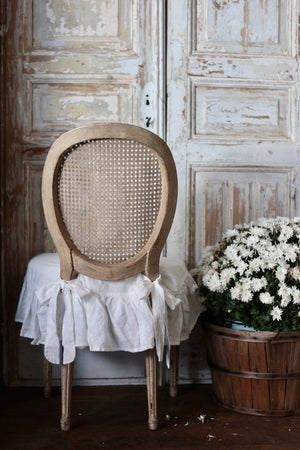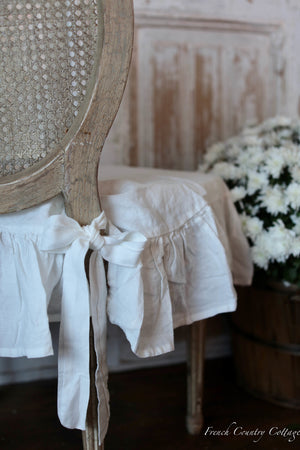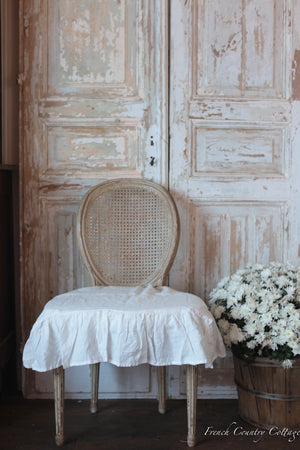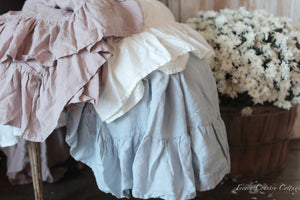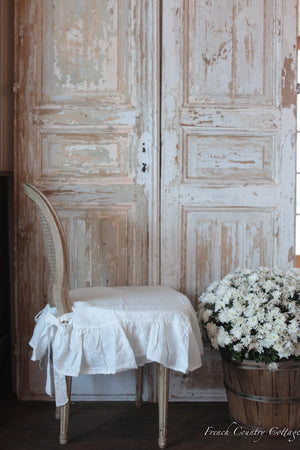 PRE- ORDER Ruffled French Linen Chair Slipcover- ANTIQUE WHITE
This is for Pre-Orders for our slipcovers. They should be arriving end of September, 2023 and will be shipped out to you then. Stock is limited.
 French Country Cottage Exclusive Label French Linen slipcovers.
I sourced a wonderful French Linen company and took your feedback and requests and we created these charming slipcovers. 
These linen slips are perfect for to add beauty and for protecting your dining chairs in your French country and cottage inspired home.
What we love
I love the soft hand they have and the lightweight fabric and the abundance of detailed linen ruffles and double fabric long ties. These are stonewashed for a lovely crumpled relaxed look- but can be ironed if you prefer a more traditional crisp look.(see both looks below) 
The Details
Antique White Color French Linen 
This is for a 4 sided ruffle slipcover
24" x 20" 
6.5" long ruffle (not included in measurement)
22" long double layer fabric ties
Front, sides and full length back section are ruffled and there are openings at each side on the back of the slipcover for the back of the chair frame.
One of the requests for these were more ruffles, thicker weight fabric and more fabric all around including more coverage in the back. So that is what they created. This is a wonderful weight fabric- and has oodles of extra extra ruffles for a full look and to accommodate larger open back areas. 
To Note: Because there is extra fabric at the back- you may need to tuck or gather to fit smaller chairs but the extra amount will also allow for using on larger spaced chairs easily.  
These are not padded and this style fits chairs without arms.  I put it on a larger antique chair with arms and it fits if you tuck to make it work- you just might have to tinker with it a bit. But this is Not made to fit chairs with arms. 
Large slip shown on antique dining chair- I like the extra amount of drape the larger size gives and larger will also fit a smaller chair and allow for extra drape.  This size will fit Most chairs- some tighter- some looser and longer. So we only have 1 size available right now. 
It is also shown un-ironed to show you how it will arrive.  Pre-washed- pre-shrunk. Machine washable and iron ok- use linen settings.
Sold individually- Ask all questions- sales final.
 Also available- Natural Linen Color in separate listing.